Quicklink Video Over IP solution
Quicklink Video Over IP solution, Video Conferencing in Broadcast, Delivered Success with Studio-in-a-box
Over the past months with Covid crisis, agile and more streamlined production workflows have quickly become the norm, with the media industry adapting to fewer or no on-site staff and the need to be able to produce from home settings, instead of studios. This has created an acceleration in the migration towards automated and distributed productions, which depend on connected and scalable technological solutions. 
The program "Tài tử Phương Nam" is implemented with the cooperation between Binh Phuoc TV Station & Newspapers and Hau Giang TV Station. This live FM Radio program with new IP technology to meet the needs of IP transmission, including sound on FM Radio Channel and sound + image on network platforms such as App and Fanpage of both stations.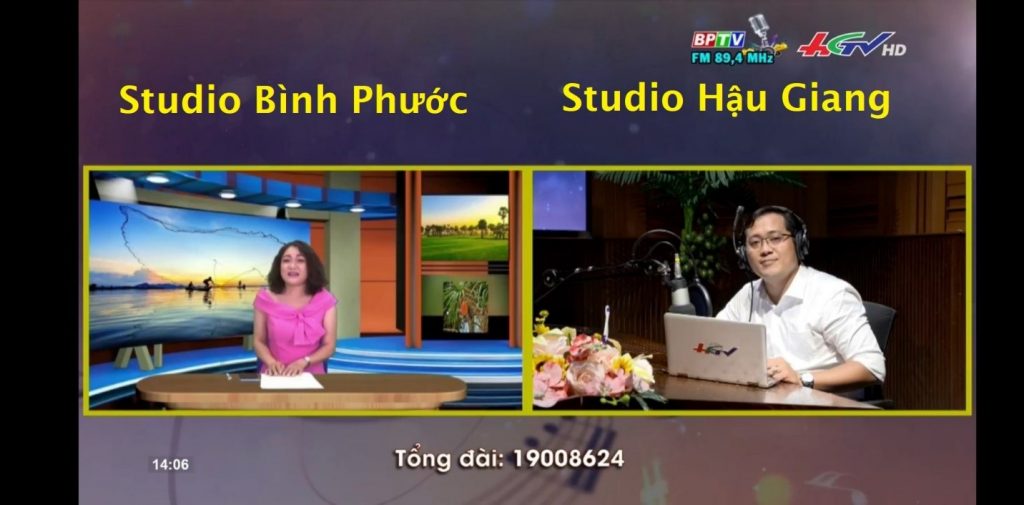 "Tài tử Phương Nam" is currently being replayed on the web platform. For more information, please access https://bptv.vn/audio/452/5027/tai-tu-phuong-nam-03-3-2022
With great success in deploy Quicklink's equipment system at Hau Giang TV Station, in March 2022, Me Ga company continues to provide and transfer Quicklink's Solution to Binh Phuoc TV Station & Newspapers, to complete the application of exploiting interactive videoconference devices over IP/Internet. This is a studio system which can manage remote device with built-in camera & light and audio/video distribution from guests/audiences via Chrome browser by using the Quicklink Manager Portal to ensure the broadcast quality. It ideally suits for HD studio broadcast contributions where there are limited on-site technical resources available. In conference, the guest participants can connect using their own personal devices, optimize the system's flexibility and satisfy the TV station's demand.
Quicklink Studio will work perfect with exist equipment, support file recording and export Live on-air by HD-SDI. Full audio metering and level control adjustments is available with XLR, and also control camera settings including pan, tilt, zoom, exposure, white balance and more. Manage and centrally control inbuilt and external lights, support of up to 5 DMX-512 lights (10 DMX channels).
Signal can output in HD, doing Chroma Key with ultra-low delay via SDI/NDI™
The portable Studio-in-a-box can setup easily with integrated PTZ camera onsite.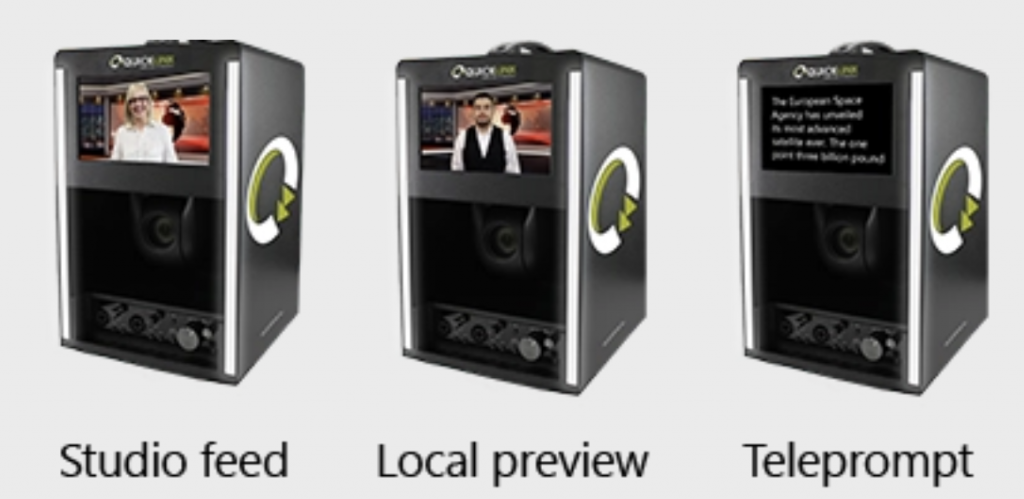 Production workflow program will work as video and voice interactive in Conference room with independent output like all-in-one hybrid switcher. The device is designed with a variety of signal inputs and outputs such as BNC-SDI Video, Zoom, Internet Remote Channels, NDI signal sources, Media sources, etc. It can be deployed quickly and is easy to use with simple human resources ensuring all online program needs and fast IP-based deployment.
Support all functions of switcher like tally return and overlay text to contributors. Genlock input SDI / Analogue XLR / AES. Independent HD recording for each guest participants.
Supports NDI, Dante, Livewire+ AES67 network audio.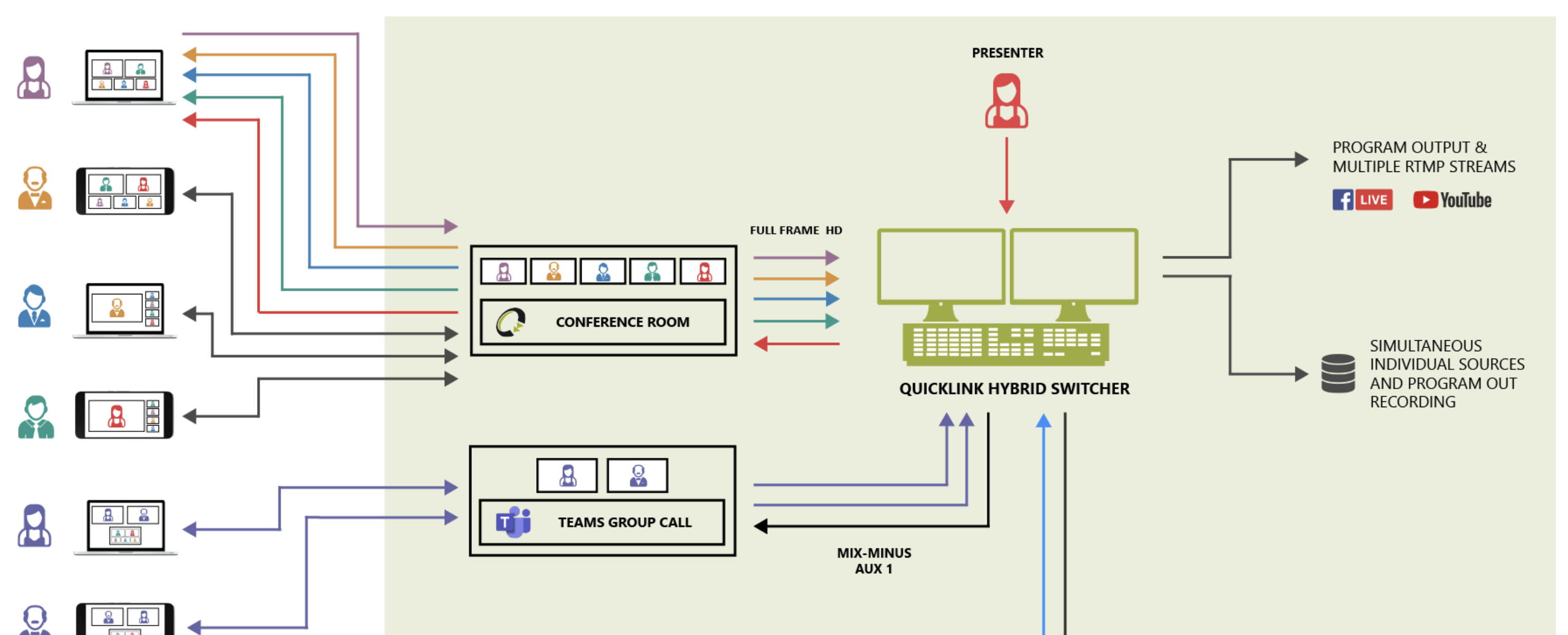 For TV stations planning to upgrade production, switching to small-scale and network-based production, Quicklink solution will ensure safety and save resources.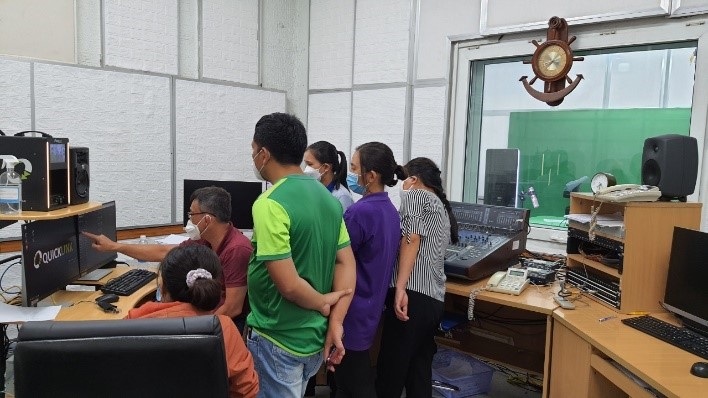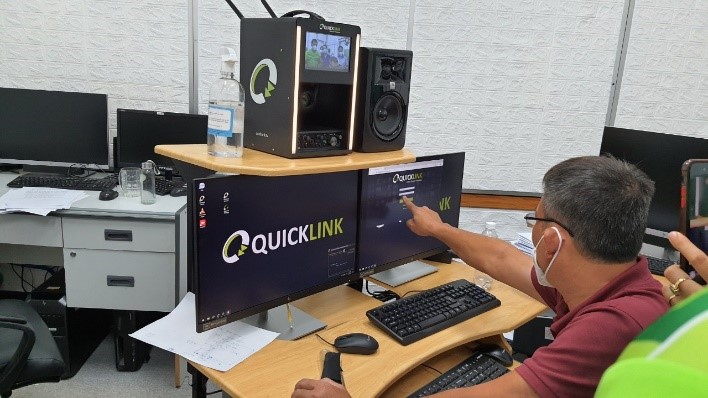 Technology transfer images at Binh Phuoc Station & Newspapers
For more information on the latest remote solutions, among many other innovations and the opportunity to interact with the device experience, please access or contact Me Ga Company via https://megasystems.com.vn/